Ten Tonne Sparrow is a performance company created by multi-disciplinary artists Tom Hogan, Joe Lui, and Finn O'Branagáin. We work between Perth and Sydney, creating work that uses storytelling, pop-sociology, pop-science, history, and the sheer force of charm and exuberance to talk about the stories we tell about ourselves.

---
Love Song Dedications
(without Richard Mercer)
A Bonkers Comedy Lecture about Love Songs

2021 Tour - Venues, Dates & Tickets
Theatre Royal, Hobart, TAS -
May 27-29
Burnie Arts & Function Centre, TAS -
June 1
Geelong Arts Centre, VIC -
June 4-5
Frankston Arts Centre, VIC -
June 8
Bunjil Place, Narre Warren, VIC -
June 16
Capital Theatre, Bendigo, VIC -
June 23
Whitehorse Centre, Nunawading, VIC -
June 25-26
The Wedge, Sale, VIC -
June 29
Wonthaggi Community Arts Centre, Wonthaggi, VIC -
July 1
Latrobe Performing Arts Centre, Traralgon, VIC - July 3
West Gippsland Arts Centre, Warragul, VIC - July 6
Swan Hill Town Hall, VIC -
July 10
Lighthouse Theatre, Warrnambool, VIC -
July 13
Gasworks Arts Park, Melbourne, VIC -
July 15-17
Riverside Theatre, Parramatta, NSW -
July 20-21
Jetty Memorial Theatre, Coffs Harbour, NSW -
July 23
"One of the funniest plays you'll ever see!"
- Alt Media
Tom Hogan and Bonnie Leigh-Dodds are side-splittingly funny in their hunt for the perfect love song... ★★★★½
- The Age
"The show is hilarious, surprisingly touching and very fast paced..."
- Sydney Arts Guide
"A bonkers and exhilarating romp through the highs and lows of '80s and '90s power ballads, elevator music and hideously awkward encounters with matters of the heart."
- Sydney Morning Herald
"Hogan and Leigh-Dodds are intelligent and effervescent, both youthful specimens, full of beans and big ideas..."
- SuzyGoesSee
"Funny and spirited, it will melt the inhibitions of even the most cynical."
- The Buzz from Syd
"... audiences comment and cheer; we turn to strangers and smile at each other and laugh together on our way out of the venue, strangers no more."
- Sydney Arts Guide

"And the winner? The perfect love song? Wouldn't dream of telling you."
- Audrey Journal
---
In 2013, after 17 years of being on air, Richard Mercer left his final Love Song Dedication. It was Trisha Yearwood's '
How Do I Live (Without You)?
' Now, two friends attempt to fill the void that The Love God left behind.
After listening to literally thousands of dedications, as well as too many earnest songs about unrequited love and the greatest love of all, Bonnie and Tom are neck-deep in their quest to find the perfect love song... erm, objectively.
There Can Be Only One.
This devised work promises a night of reassurance, full of songs you are ashamed you know the lyrics to. In a world of post-truths, ironic memes, anti-social media,
Love Song Dedications (without Richard Mercer)
offers the ultimate therapeutic playlist. Irony will be truly dead, and only one question will hang in the air: "What is love? (… Baby don't hurt me, don't hurt me, no more...)"
Originally presented at PACT, Erskineville (July 2018)
Green Room Awards 2019 -
Nominated for Best Ensemble & Best Sound Design
Melbourne Fringe 2018 Awards -
Nominated for Best Performance
Created by Tom Hogan & Bonnie Leigh-Dodds
Lighting Design by Emma Lockhart-Wilson
Sound, set, and choreography by Tom Hogan & Bonnie Leigh-Dodds
Photos by Nick mckk
---
MOUNT HOPELESS

A Tragic Comedy Musical about Burke & Wills
Created and performed by Tom Hogan & Elana Stone

COMING SOON in 2020
Merrigong Theatre Company
Illawarra Performing Arts Centre



---
Teacher of the Year
21 - 26 May, 2019

PACT, Sydney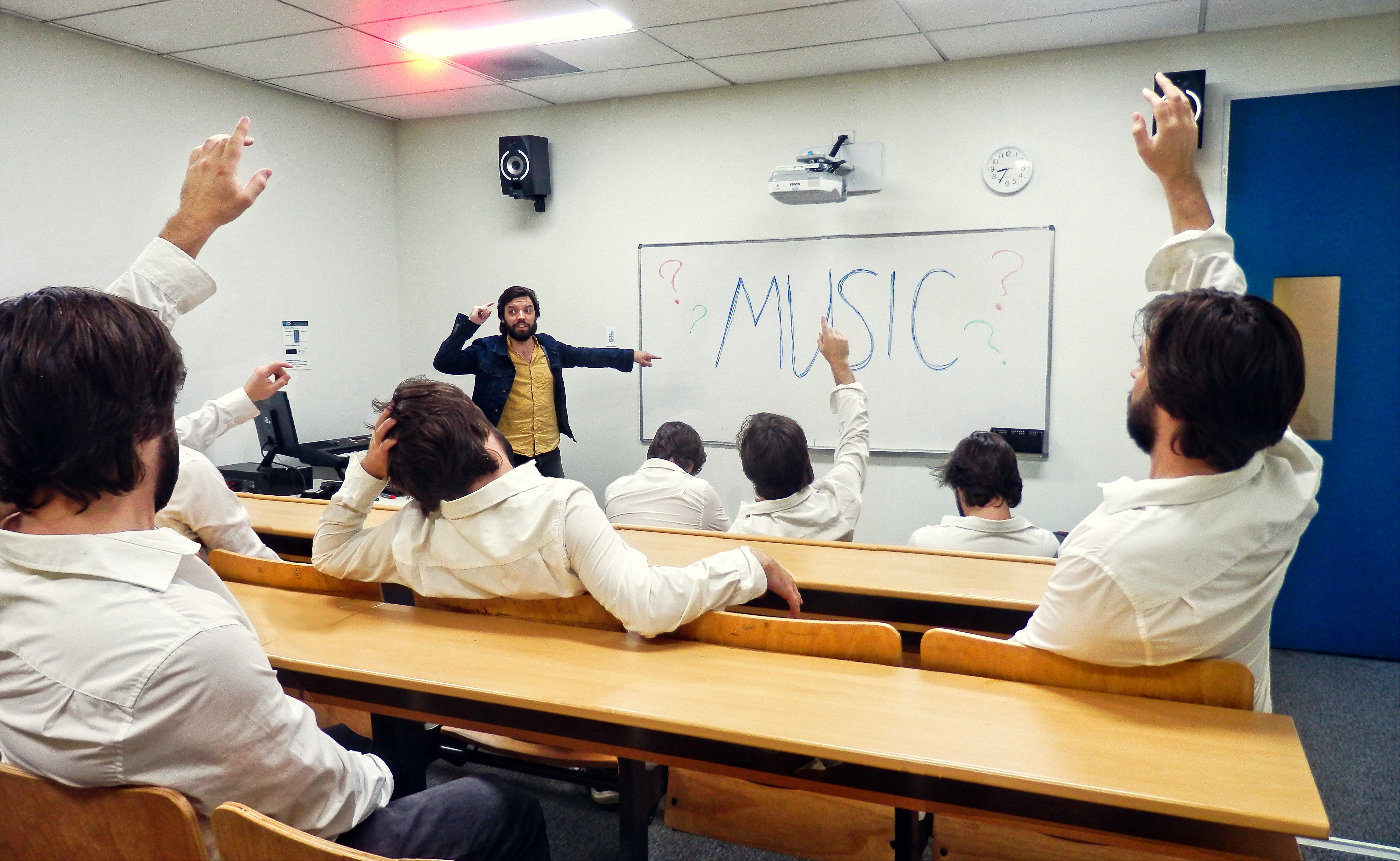 Throw your textbooks away! This is the new unorthodox method from oh captain your captain.

Teacher of the Year is a music lecture series by performer and composer Tom Hogan. Each lecture is a masterclass designed for Music Fans, Creatives, and Audiophiles. The topics explore ideas of active listening, full of music trivia presented alongside creative and technical philosophies, all spiced with humour and irreverence. These lectures are a stupidly joyful exploration of song structure as creative expression, and philosophical conundrums in creativity.

1. The Ultimate Song Structure Showdown (Tuesday 21, Saturday 25)
Featuring the music of Justin Bieber, Sister Rosetta Tharpe, Frank Sinatra, Elvis Presley, and more

2. A Noise is a Noise is a Song (Wednesday 22, Friday 24)
Featuring the music of Olafur Arnolds, Delia Derbyshire, Ella Fitzgerald, Bruce Springsteen, The Beatles, and more

3. Stop Thinking About Not Playing The Piano For Four And A Half Minutes (Thursday 23)
Featuring the music of Arnold Schoenberg, John Cage, Janet Cardiff, and... the Russian National Anthem?

As a founding member of performance company Ten Tonne Sparrow, and co-creator behind Love Song Dedications (without Richard Mercer), The Epic, and the podcasts Missing Richard Mercer and Obscure Music History, Tom Hogan presents a new chaotic insight into the analytical musical brain.

Deviser & Performer | Tom Hogan
21 - 26 May, 2019
PACT, Sydney

Tamagotchi Reset & Other Doomsdays


"Immense, intense and filled with brilliance, this show is a must-see. ★ ★ ★ ★ ½" - OutInPerth

"Incredibly informative, laughable and existential, yet scarily… all so relevant. Do not miss this production, it could just save us from a doomsday. ★ ★ ★ ★ ½" - The Theatre Diary

"It was going to be a pretty weird play... Was I right? Eh … sort of. Was it good, though? Abso-fucking-lutely. ★ ★ ★ ★" - Dircksey




---

Finn's new Tamagotchi is acting a bit weird. The tentacled hatchling needs constant care and attention, and it just keeps whispering "That is not dead which can eternal lie" over and over again. Scott's having fever dreams about rising sea levels, and cult members keep turning up at the front door. Is it time? Is THIS climate change? Or was Nostradamus wrong again?

The real signposts of inevitable doom are already here, so Finn and Scott connect the dots between ancient myth, up-to-the-minute science, and the dankest memes. Together they present a comprehensive pre-apocalyptic guide to the end of the world.

From the minds behind The Epic comes a new factual spectacular about the end of humanity, and our relationship with the world around us.

Come on in, the water is warm. And it's getting warmer.



Watch the Meet the Cast video here!
Watch the Meet the Writers video here!

Performers | Paul Grabovac, Izzy McDonald
Writers | Finn O'Branagáin, Tom Hogan
Director & Lighting Design | Joe Lui
Producer | Finn O'Branagáin
Composer | Tom Hogan
Designer | Sara Chirichilli
Stage Manager | Sean Guastavino
Publicist | Scott McArdle
Hero Image | Chloe Flockart

20 June - 8 July, 2017
The Blue Room Theatre, Perth
[Media Release PDF]
[eProgram from The Blue Room season]


Tamagotchi Reset & Other Doomsdays was developed with support from JUTE Theatre Company and Bundanon Trust.
The Epic








Dash back to the beginning as we retell and unpick myths, epic texts and really good stories from around the globe.

Many of these stories have lost relevance, interest, or have faded away over time – our goal is to drag them into the modern world, peel them to pieces and make them present again. Our world may be different, and maybe now we think we're too modern, bitter or cynical for these stories. But anyone could be a hero if you tell it right. Even two poets.

From the cradle of civilisation to the one about the wooden horse, with heroes ranging from Gilgamesh to Vin Diesel, The Epic lovingly takes the stories you think you know and asks them to tell us another.

The Blue Room Theatre, Perth WA [June 2015]
Bondi Feast, Sydney, NSW [July 2015]
PICA for Summer Nights, Perth WA [Jan 2016]
Touring throughout 2018, with ArtsOnTour

TEAM
Writers & Performers | Finn O'Branagáin & Scott Sandwich/Tom Hogan
Lighting & Associate Director | Joe Lui
Music | Tom Hogan
Design | Desmond Tan

The soundtrack is available on Bandcamp, Spotify, etc.


REVIEWS
"The Epic is easily one of the most enjoyable shows I've seen this year; it's charming, it's educational and it's joyously irreverent. The passion which these two performers have, for storytelling and the telling of those stories in particular is palpable, and their enjoyment in the retelling is infectious."
– The AU Review

"The Epic is epic not only in the scope within each story, not only in the infectious enthusiasm brought to the stage by each performer, but also in the depth and breadth of the knowledge about how these tales fit into human and cultural experiences."
– Australian Stage

"A pole-to-pole expedition in search of the world's elemental epic stories, and an entertaining and illuminating journey it is."
– The West Australian

Accessible, funny, and awkwardly self-aware, Scott and Finn not only re-tell some of the most influential and out-there stories ever recorded, they also reflect on how stories are shaped by the teller and how, in turn, the world is shaped by stories… Finn and Scott approach their material with equal parts reverence and irreverence, in precisely the places it's needed. There is just enough levity, just enough grandeur, and too much going on to be bored for even a moment. If you get the chance to see this show sometime, do it. The Epic will make any hour of your life seem bigger on the inside. 5/5 stars
– The Brag

"O'Branagáin and Sandwich are retelling a few of the most epic epics of all time from around the world. They deconstruct myths from just about every continent in the space of about an hour, and do it in a way that's full of spark and barb, irreverence and passion."
– X-Press Magazine

"Even if you are totally over the word epic, get back to its true origin with Finn and Scott – they'll literally remind you how great an epic can be."
– X-Press Magazine

"A fantastic collection of stories from around the world, delivered by two storytellers passionate about epic tales and keen and bright-eyed in their enthusiastic sharing of various characters and narratives."
– Australian Stage

"A thought-provoking around-the-world journey of cultural identity. O'Branagáin and Sandwich were amazing. They captured the attention of the entire room with just their words and their passion."
– Colosoul